Our homes are our personal abode, and everyone wants their personal space to reflect their tastes, interests and personality. And this requirement is rightfully fulfilled by Handicrafts in Udaipur. These crafts keep us in touch with the rich culture and heritage that were the source of its origin.
However, above anything else, purchasing hand-crafted goods is an acknowledgement of the skills and expertise of the artisans who have spent most of their lives devoted to the art. With changing times, people are learning about the authentic and aesthetic touch that handicrafts can add to home decor.
Indune, in Udaipur, is one such place that hosts a collection of rich handicrafts from Rajasthan. This article offers insight into the beautiful and Famous Handicrafts of Udaipur, Rajasthan, which you can easily purchase from Indune.
Indune – The Best Handicraft Shop in Udaipur
Indune, an old bungalow transformed into a contemporary showroom, is the place where the artist meets the admirer. The place has received the title of being the best Udaipur Handicraft Market.
At present, they are among the few renowned initiators that promote artisans and craftsmen associated with presenting the history of Rajasthan in their art. The place is forever filled with tourists and city-dwellers admiring the lavish crafts that consist of antique-finished boxes, distressed photo frames, retro-styled furniture and much more.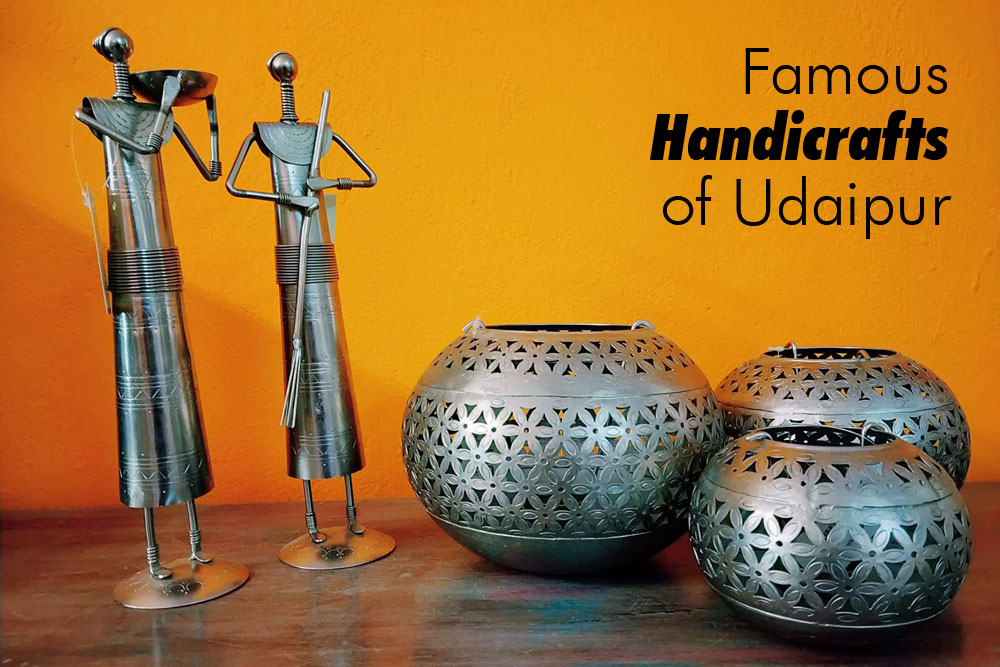 What Famous Handicrafts Can You Buy at Indune?
Indune, in Udaipur, is home to countless beautiful and mesmerizing handicrafts. Some of these are:
Wooden Furniture

The Udaipur Wooden Handicraft

is definitely appreciation-worthy. If you are looking to purchase a vintage bedside drawer, tables, shelves etc., then Indune is the best place to visit. The place has a collection of both contemporary and traditional designs. From a list of options available, you can choose the one that goes with your choice and interest.
Wall Decor

Wall decor definitely adds extra charm to the decorative aspect of your place. Indune offers numerous options under wall decor such as wall panels, clocks, mirror frames, lamps, lanterns, candle holders etc. These hand-crafted art pieces offer a retro and vintage look that pleases and mesmerizes the eyes of the viewer.

Gifts & Accessories

Win the heart of your loved ones by gifting them the best Udaipur Handicraft Decor Items. Indune has the best collection of aesthetic yet affordable gift items. These include candle stands, photo frames, pen holders, bags, jewellery boxes, stationery, flower vases and much more. All of these items reflect the rich culture of Udaipur.
Statues and Idols

The presence of a statute and an idol is mandatory to ensure peace and prosperity in homes, offices, etc. But when bought from Indune, these idols not just fulfill the religious requirement but also the aesthetic and decorative requirements. Statues and idols of gods and goddesses are considered among the Famous Handicrafts of Udaipur. And Indune makes sure to have the best ones in their collection for you.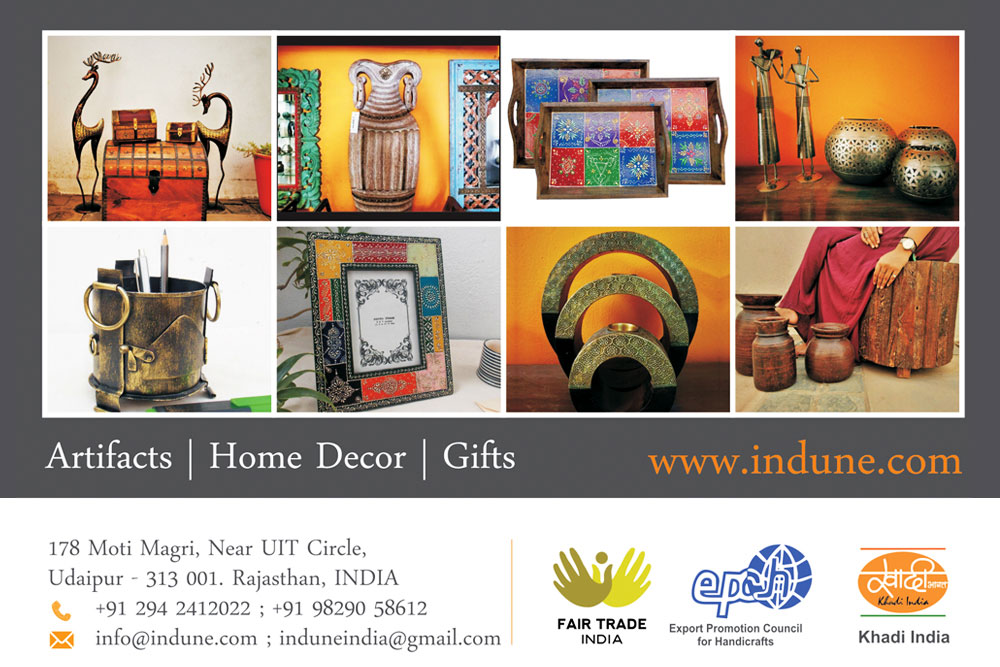 Why is Indune the Best Place To Buy Handicrafts in Udaipur?
Indune is definitely the best place if you are planning to purchase hand-crafted goods in Udaipur. Listed below are reasons supporting this claim.
Quality Products

Indune is known to be the most trusted Udaipur Handicraft Exporter and importer because of its emphasis on quality and not quantity. The wide range of product collections that the store owns is famous worldwide for its top-notch quality. The artisans who make these products are skilled and experts in the field. They are known extensively for their talent to imprint the rich history of Udaipur in their crafts.

Beautiful Designs

The famous handicrafts of Udaipur are popular for their vibrant and colorful designs and patterns. The designs on the crafts in Indune are predominantly reflective of the culture and heritage of Udaipur. The beautiful and intricate designs enlighten the decoration of your home and upgrade you to a person with rich and exquisite taste in art and craft.

Ardent Commitment

What has placed Indune as the Best Handicraft Shop is its commitment to provide the best products and services to customers. Indune maintains that all the products it displays is 100% authentic Indian and hand-made out of Natural Material . Indune collects and sells products that are handcrafted by the best artisans in Rajasthan.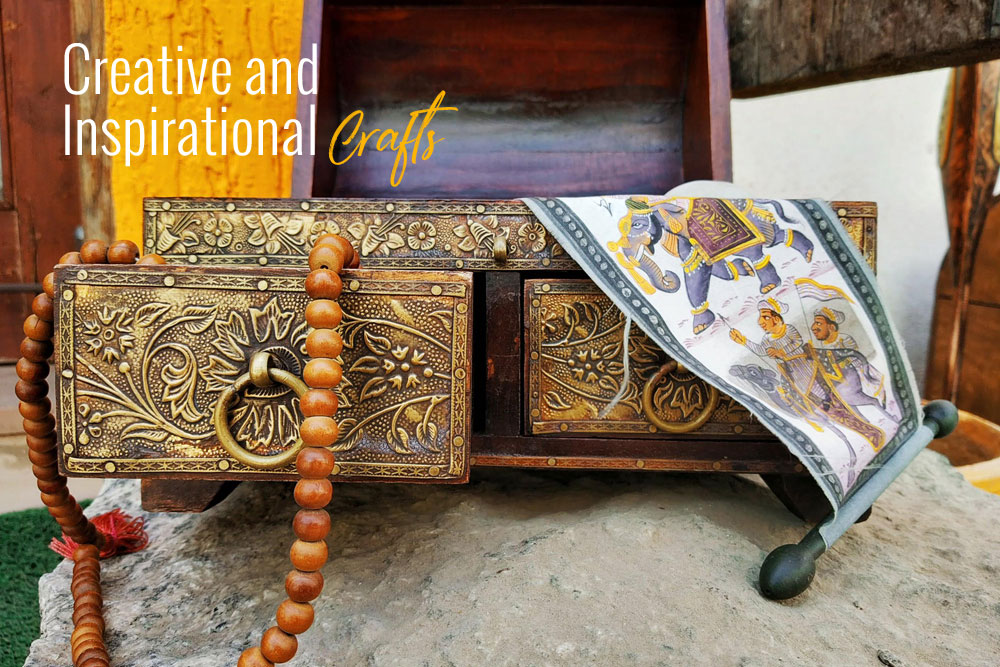 Creative and Inspirational Crafts

All the artworks in Indune are unique on their own. Every art piece is different from the others. The skilled hands behind them are known for their creative and innovative skills. With years of practice and dedication to their art, artisans provide art pieces that are special and distinctive. This is what makes Indune different from other handicraft shops in Udaipur.

Fair Trade

For the conscious consumer

If there are two words that best describe Indune, they are 'crafts' and 'smiles' – and that explains our exuberance. We have ethically created our miscellany of beautiful things with craftsmen who have truly sprinkled love, passion and art on their creations – we strive to bring beauty to homes and happiness to them.
As a member of Fair Trade Forum-India since 2012 and a part of the Fair Trade movement, Sanskrit Expressions (the parent organisation of Indune) reveres its partnership with craftspeople around Rajasthan. From metalwork artists and wood-sculptors to innovators who embed traditional crafts in their designs and artisans who keep their heritage alive with craft – these are the people our trade focuses on. The simple idea is to make a difference with what we love to do.
Fair trade has been defined as an organized social movement and market-based approach to alleviate global poverty and promote sustainability. It promotes Eco-friendly practices and products, at both the production and consumption levels. Fair Trade Forum-India (FTF-I) is the National Network for Fair Trade in India. It works to ensure a dignified income and overall development of artisans and workers. It is a member of the World Fair Trade Organization (head-quartered in Netherlands), which is the global face of fair trade.
Fair Trade Practices

Ensuring good working conditions.
Payment of fair wages and fair price.
Commitment to non-discrimination and gender equality.
Freedom of association.
Ensuring no child labour or forced labour.
Transparency & Accountability.
Providing resources and opportunities for capacity building.
Creating opportunities for economically disadvantaged producers.
Protection of & respect for the environment.
Encouraging fair trade practices.

The Shopping Experience

Location & feel of the store, convenience of parking, courteous & helpful staff, neat & robust packaging so that it is easy & safe to carry home your purchases…all this adds to give you a complete and satisfied shopping experience
Conclusion
Udaipur handicraft is definitely a world-appreciated art. However, finding the authentic ones often get difficult. To make this task easier for you, we have listed in the article one of the best and most authentic handicraft shops in Udaipur. The art and craft they offer are unique, creative and enthralling. With the best artisans at work, Indune is definitely the place to get your hands on the culture and heritage of Udaipur in the form of handicrafts.