A city known for its cultural heritage, artistic works, and colourful vibes, Udaipur offers unique handicrafts, delivering a curated shopping experience to tourists. Vibrant markets and narrow alleyways make up for the busy shopping lanes where one can get folk art miniature paintings, stone jewellery, silver and copper items, and many more traditional items.
So, today, we will tell you about the city's heritage, its handicraft market, and the must-buy items from Indune, the best handicrafts shop in Udaipur.
Udaipur Handicrafts Market – A Rich Tapestry of Heritage and Art
Udaipur's artistic heritage, originating from the Mewar dynasty's patronage, is brilliantly showcased in the majestic City Palace, featuring Rajput and Mughal architecture. The city's iconic paintings portray captivating scenes from stories, royal life, and nature's beauty.
Pichwai paintings, often found on temple walls, depict tales centred around Lord Krishna. Udaipur's thriving crafts industry, deeply rooted in historical and temple art, includes pottery, enchanting Bandhani textiles, and exquisite silver jewellery.
Making a Living – How the Current Generation of Artisans Continue the Legacy
It is in the hands of the current generation of artisans that Udaipur's artistic heritage continues to survive. The skilled artisans are proving their mettle day after day and have also adapted to the demands of the modern world.
The economic importance of Udaipur's efforts is evident from the statistics. The handicraft industry in Rajasthan, with Udaipur being a key player, contributes to the state's economy. As per information provided by the Department of Industries, Government of Rajasthan, the handicraft sector in the state generated revenue exceeding Rs. 2,100 crores in 2020 and employed many workers.
Udaipur artists have embraced innovative approaches to their crafts. For instance, while traditional forms like Pichwai and folk art miniature paintings remain integral, they diversify their product lines, adding contemporary touches.
The power of e-commerce platforms has further catapulted their success story, resulting in increased sales and recognition. On the other hand, local community efforts, government initiatives, and NGO assistance play a crucial role in skill development, financial aid, and ensuring equal rights for the workers.
Famous Items You Must Shop at Indune in Udaipur
While there are many stores in Udaipur to have an indulging shopping session, Indune is the best place to shop handicrafts in Udaipur. Starting in 2013, this brand has emerged as a leading name in handicraft items. It sells some of the most magnificent original works at affordable prices.
So, here are some of the famous Udaipur handicrafts you must buy from Indune.
1.    Wooden Box Half Round, Rustic Blue, Embossed Brass Art
Whether you are looking for a handicraft item yourself or something to gift, this Wooden Box Half Round, Rustic Blue, Embossed Brass Art from Indune is a great idea to store any jewellery pieces, coins, or any valuable items. It will not only add a luxurious touch to your home decor but also be a lovely organizer for your things. Weighing 1400 grams and having a dimension of 10″ x 7.5″ x ht. 6 inches, this wooden trinket box is easy to carry and can be cleaned with a dry cotton cloth.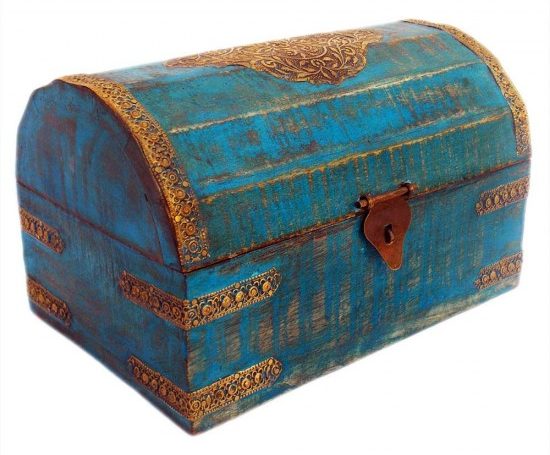 2.    Traditional Painted Jharokha – 10 Inches
Decorative windows, or Jharokhas, are Udaipur's signature handicraft items. So, if you have been looking for an artistic Jharoka from the best place to shop handicrafts in Udaipur, this Traditional Painted Jharokha – 10 Inches from Indune is your ideal pick. It will give you a piece of Udaipur that adds a vibrant touch to your house. Made of wood and weighing only 600 grams, this lightweight Jharokha can be used as wall decor, a photo frame, or a mirror.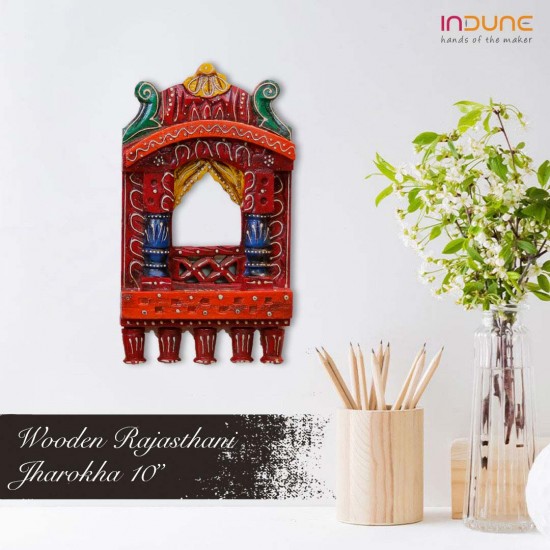 3.    Candle Stand Floral / Taper Medium (Collection- Elegant Paisley)
Indune's Candle Stand Floral / Taper Medium from their latest collection of Elegant Paisley is a highly recommended product. Painted with beautiful white and red colours and having an elegant floral design at its base, it will not only elevate the overall look of your home but also can be used in your indoor temples or for Diwali lighting.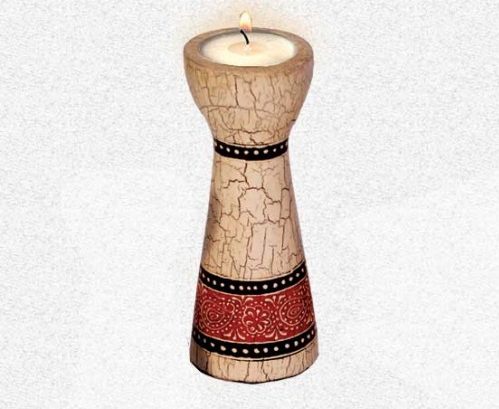 4.    Tribal Mask Wall Hanging – Male
Made of iron sheets, this Tribal Mask Wall Hanging – Male from Indune will be a fabulous addition to your home or office space. It has a metallic shine, and the brown colour lends it an earthly touch. Being highly lightweight, this tribal mask attests to India's diverse cultures and is a great collectable for anyone with a penchant for wall hangings.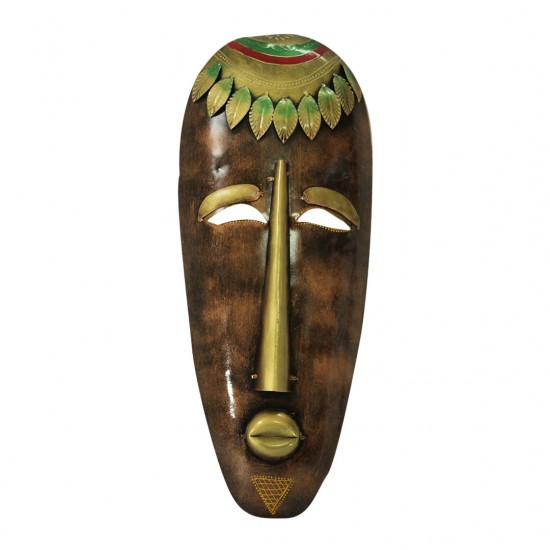 5.    Hot Plate Iron & Ceramic Tile – Chowki
If you want to buy a traditional Udaipur chowki from one of the best handicrafts shops in Udaipur, this is your best option. Used for holding glasses or placing hot plates, the Hot Plate Iron & Ceramic Tile – Chowki from Indune will make your dining space look straight from a royal household. The assorted colours in the chowki are also subtle and not overtly done, which is a testament to the fine craftsmanship of the Udaipur designers.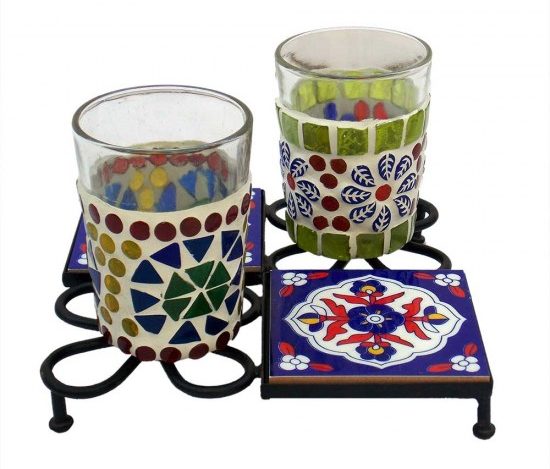 Conclusion
Udaipur handicrafts market has always been thriving. With intrinsic artwork and talented artisans, the city offers a wide range of handicraft items. Among the many, Indune is one of the best shops to buy these items for yourself or your loved one. Their products are not only top-notch in quality but also visually pleasing.