The T-light holder, a small but beautiful home design element, can offer a touch of elegance and warmth to any room. These little holders are made exclusively for tea lights, which generate a delicate, flickering glow that creates a pleasant and intimate atmosphere. Discover the best online destination to buy decorative tea light stands online. Explore our website and find the perfect addition to your home.
Candle Tea light stands are available in a wide range of styles, from minimalist and modern to elaborate and baroque, providing limitless creative possibilities in boosting the visual appeal of the living environment. These holders provide a versatile and beautiful method to infuse the house with a mesmerising light, whether put on a dining table, spread across a room, or used to illuminate outdoor settings.
How Can You Use Candle T-Light Stands?
Candle T light stands are versatile design pieces that can create a pleasant and captivating atmosphere in your living area. Here are some inventive and inspirational use for T-light holders:
1.    Tabletop Elegance
Use candle Tea stands as table centre pieces to create an intimate and cosy ambiance for meals with loved ones. Arrange them in a linear or clustered style for a visually spectacular effect.
2.    Enhance the Outside Environment
Install candle Tea light stands along walks and patio tables, or hang them from trees. These tiny lights add a touch of enchantment and create a compelling environment for evening parties or romantic nights beneath the sky.
3.    Floating Beauty
Fill a small bowl or glass container halfway with water and float T-light holders on the surface. The candles slowly float and illuminate the water, creating a mesmerizing show ideal for giving any environment a tranquil and ethereal touch.
4.    Wall Artistry
Arrange T-light holders in a distinctive geometric design on a wall-mounted ornamental panel. They give the walls a sense of sophistication and elegance while throwing a gentle and inviting glow across the area.
Why Choose Indune to Buy Candle Tea Light Stands Online?
The talented artisans of Indune have become famous for manufacturing the best Tea stands in Rajasthan's heartland. These artists utilise Rajasthan's timeless beauty and artistic talent as their inspiration, drawing inspiration from the state's rich cultural past.
Every precisely manufactured T-light reflects Indune's dedication to quality, where attention to detail and perfection assure both dependability and aesthetic appeal. Indune guarantees that their T-lights not only look beautiful but also last by sourcing quality materials such as robust metals and stunning glass.
Buy These 3 Decorative T Light Stands Online from Indune
Here are some of the most fashionable candle Tea stands that Indune has to offer.
1.    Degchi-Shaped Wall Sconce Tealight Holder
In the world of interior design, lights and lanterns have long been seen as essentials to provide a touch of urban cool. This tea light candle holder from Indune, fashioned in the shape of a Degchi Pot, conveys a sense of antiquity that easily brightens your area.
This Degchi-Shaped Wall Sconce Tealight Holder, painstakingly carved from iron and finished in a striking golden brown shade, exudes an ageless and dazzling rustic charm. Hang it gracefully on the walls or proudly display it on the table, and watch as it instantly lifts the mood, filling your surroundings with an appealing light that is as intriguing as it is evocative.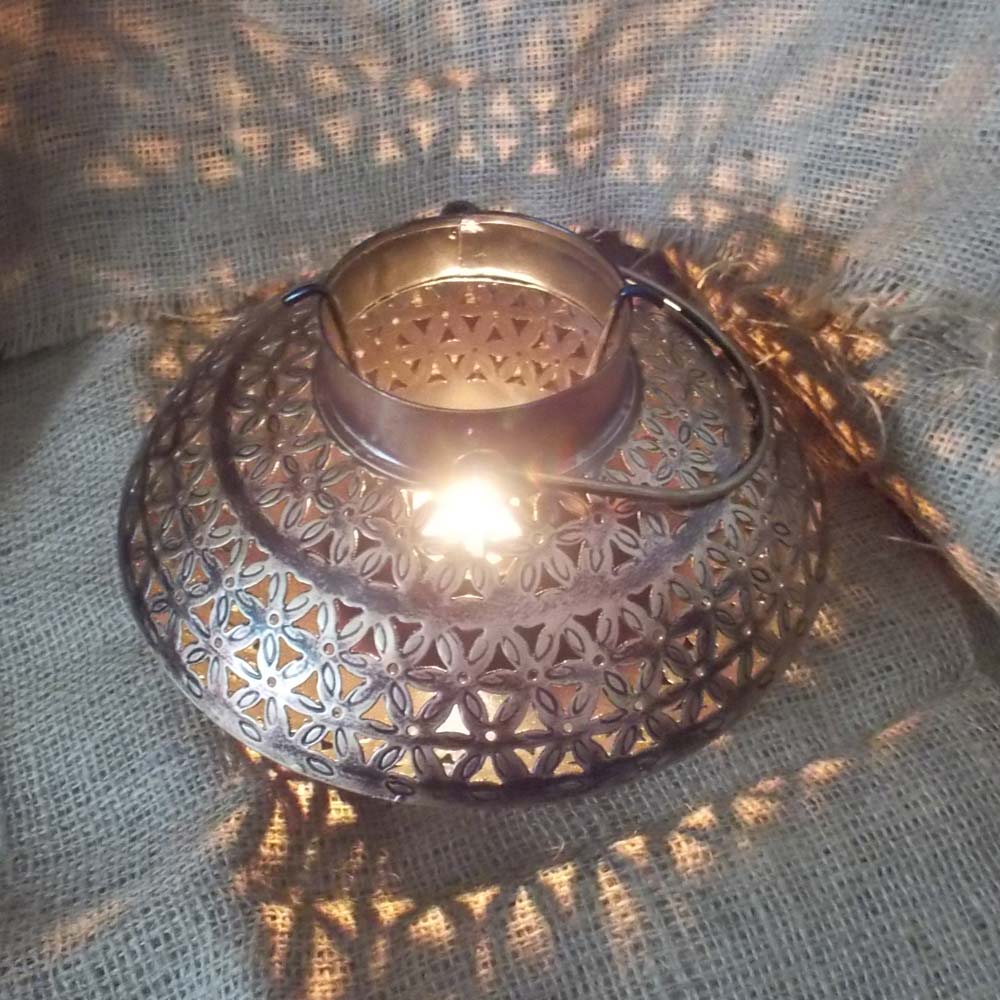 2.    Beaming Heart T-Light Holder
This fascinating golden and black heart-shaped metal T-light stand is created to render an awe-inspiring aesthetic ambience. The beautiful metallic polished t-light holder with its magnificent perforated carvings offers a sense of refinement to the atmosphere when lit at night.
Made with precision from perforated metal sheets, this Beaming Heart T-Light Holder convey a timeless beauty with their antique gold metallic colour and polish. This magnificent tea light holder, measuring 4 x 2 x 4 inches, seamlessly fills your surroundings with a mesmerising radiance. So, get these decorative t light stands online and let them become the focal point of your home design.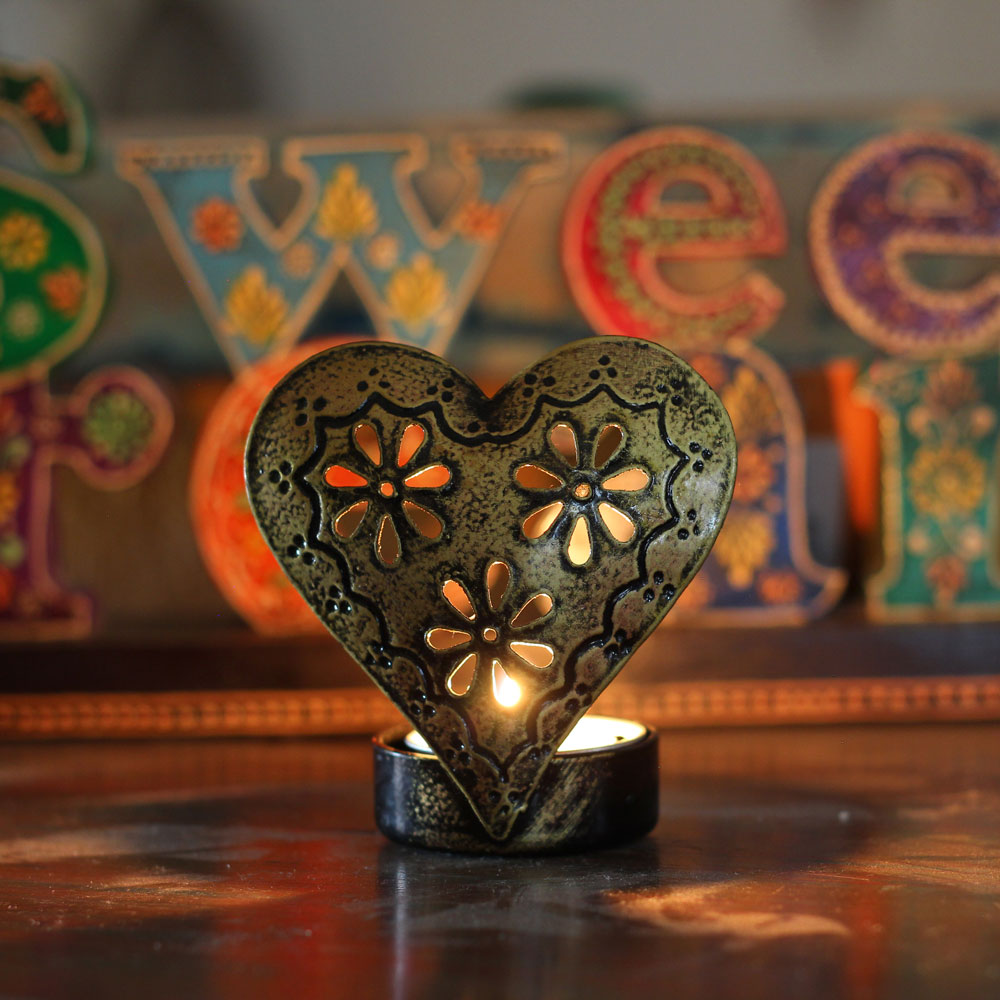 3.    Wooden Shoe Tealight – Weathered Pink
Enjoy the allure of this intriguing Wooden Shoe Tealight – Weathered Pink, one of the best T stands crafted by Indune. Handcrafted with care and filled with the spirit of Rajasthan's cultural tradition, this holder features a gorgeous distressed finish that gives a touch of intrigue.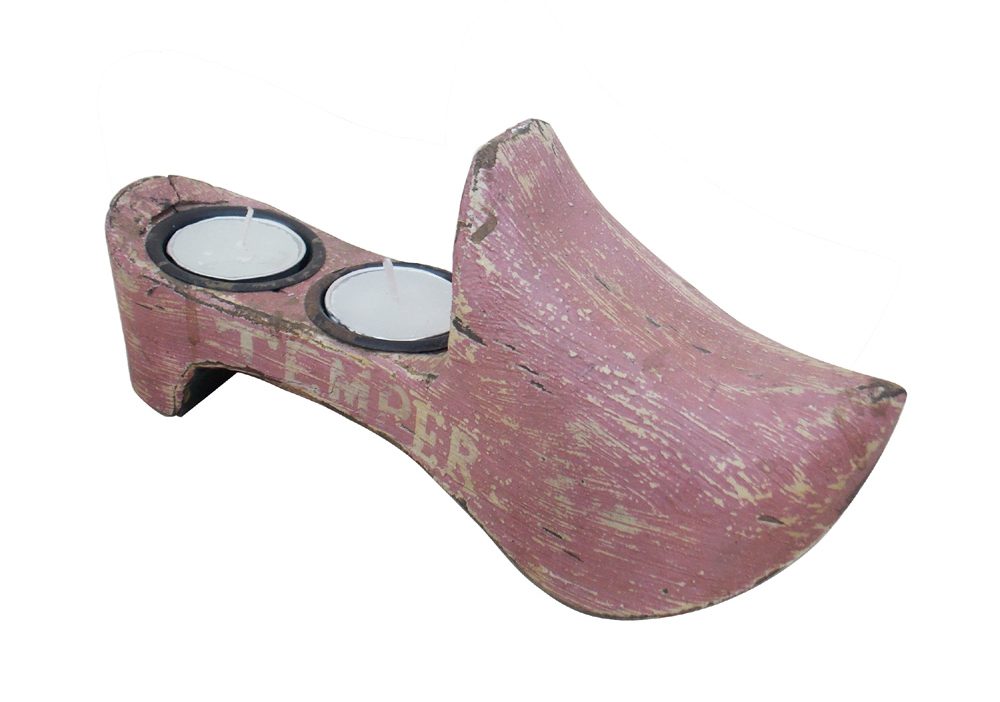 The distinct aged appearance adds a rustic and old feel to any space, evoking nostalgia and warmth. This tea light holder is made of high-quality wood and is 9 x 3.5 x 4 inches high, making it a flexible and eye-catching addition to the home decor.
Conclusion
T-light holders are the epitome of beauty, workmanship, and dependability. The renowned Rajasthan handicraft firm, Indune, has perfected the art of producing magnificent T-light holders with timeless beauty and creative delicacy, thanks to a profound connection to Rajasthan's traditional past.
It develops T-light holders with the creative hands of its artisans that not only serve as essential lighting accessories but also bring a touch of magic to any area. Indune assures that each T-light holder is a dependable and long-lasting work of art with rigorous attention to detail, premium materials, and a dedication to quality. So, visit Indune.com today to buy t light online!