Looking for the perfect candle stands at the best price? Look no further! Indune will help you find the ideal candle stands that fit your budget and style.
Candle holders have long been admired for their capacity to add warmth, atmosphere, and a sense of magic to settings. These traditional home décor elements not only serve as utilitarian candle holders, but they also have an intrinsic aesthetic attraction that can convert any area into a mesmerising refuge.
Candle stands provide various solutions to fit every individual's taste and inclination, from delicate and delicately made pieces to sleek and minimalist masterpieces. Whether gracing a dining table for an intimate supper, casting a gentle light in a cosy living room, or giving a touch of elegance to a calm bedroom, they have become an essential feature in interior design, captivating both the sight and the heart with their beauty and charm.
Different Ways to Use Candle Stands as Home Decor
Candle holders have become crucial elements in home design, providing many inventive options for improving the visual appeal of our living spaces. Here are some creative and inventive ways to incorporate candle stands into your home decor:
Centrepiece Delight: Make your dining table a visual feast by setting a collection of candle holders in different heights and styles in the middle.
Warmth Wall: Arrange a series of wall-mounted unique candle stands in an artistic arrangement to create a warm and inviting atmosphere in any space.
Bathroom Bliss: Add a spa-like ambience to the bathroom by placing candle holders around the bathtub or on the vanity.
Shelf Styling: Use antique candle holders as attractive embellishments on shelves and bookshelves.
Indune – An Exquisite Choice for Unique Candle Stands
Indune, a pioneer in the field of home décor, specialises in creating magnificent candlelights intended to enhance the ambience of any living area. Indune has refined the art of making superb lighting accessories that bring a touch of enchantment to dining table decor and living room settings alike, with a sharp eye for detail and a devotion to exceptional craftsmanship.
Their collection includes unique candle stands and tea light holders expertly constructed to provide interiors with a warm and inviting glow.
Buy Candle Stands at Best Price from Indune
If you're looking to buy candle stands online, Indune has to offer a wide range of choices. Have a look at their best 3 products.
1.    Square Candle Holder (Collection- Flora On Sapphire)
Through the Square Candle Holder Collection – Flora on Sapphire, embark on a thrilling trip into the land of magic. Enjoy the attraction of its sapphire blue tint, which effortlessly infuses an aura of mystery into any situation. Immerse your area in the delicate, flickering candlelight emitted by these exceptional holders, as the Flora on Sapphire series creates a captivating atmosphere like no other.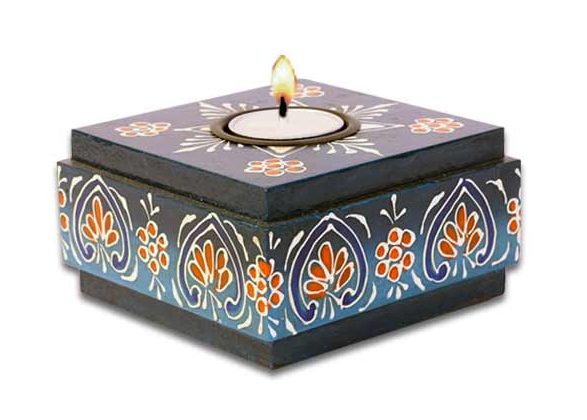 These candle stands are meticulously constructed from fine wood and stand at 4.5 x 4.5 x 2.5 inches, a witness to their superb craftsmanship. You can get these candle stands at best price on Indune and illuminate your surroundings with a heavenly enchantment, transforming the home into a refuge of elegance and wonder.
2.    Rustic Sleeper Wood Table Candle Holder
Witness the creativity of traditional Rajasthani artisans as they embrace a sustainable approach to woodworking, giving old wood new life. This one-of-a-kind candle holder from Indune exemplifies their exceptional craftsmanship. Created from reclaimed sleeper wood and iron, it renders a modern but sophisticated look that adds warmth and cosiness to your house. The ironwork is precisely polished with a silver chrome finish, and the rough natural wood provides a beautifully worn appearance.
With dimensions of 4 x 4 x 10 inches and weighing 1.5 kg, this Rustic Sleeper Wood Table Candle Holder is a monument to the artists' talent and commitment. Embrace the beauty of sustainable craftsmanship with this one-of-a-kind design, and let it infuse your environment with a touch of rustic elegance.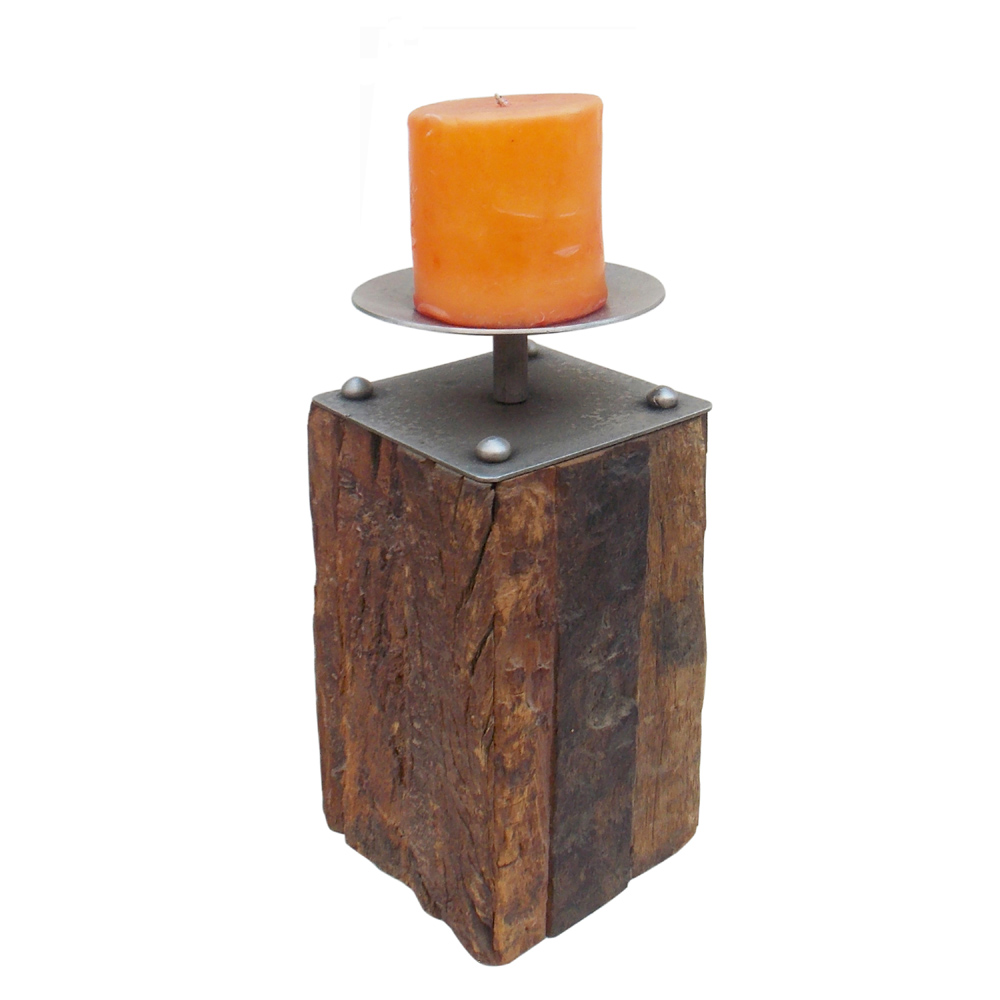 3.    Wall Candle Stand
End your search for the best candle stands at best price with this Wall Candle Stand from Indune. It is a work of art that blends practicality and aesthetic appeal. This candle holder is made of solid iron and has a sleek black powder finish, giving any wall a touch of modern elegance. It is lightweight and sturdy, measuring 8 x 3 x 13 inches and weighs just 600 gms.
The Wall Candle Stand is a perfect utilitarian item, providing a fashionable and practical way to display and illuminate your favourite candles. This stand instantly enhances the mood and offers a warm and welcoming light to your home, whether placed in the living room, bedroom, or hallway.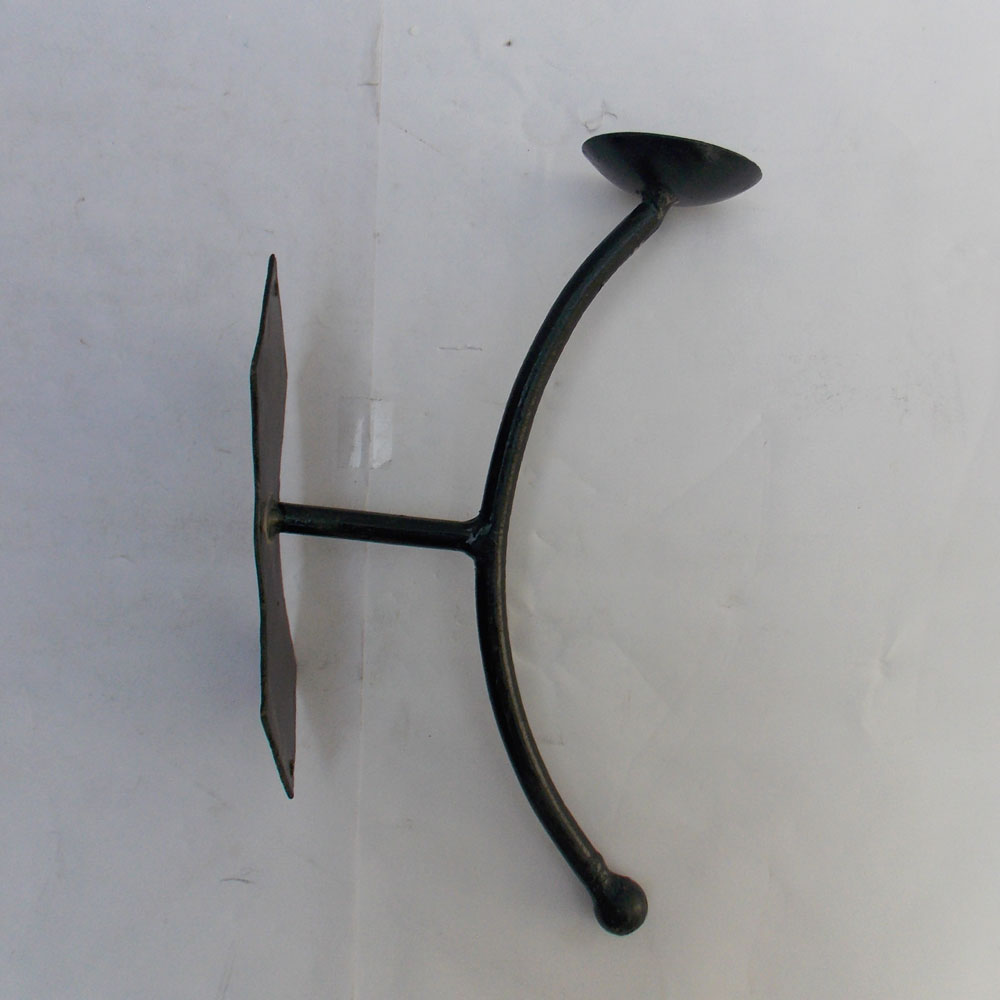 Conclusion
Candle holders have developed as an essential part of home design, providing a unique combination of usefulness, beauty, and atmosphere. From their modest beginnings as functional receptacles for carrying candles, they have grown into stunning works of art that enhance the visual appeal of any living environment.
Candle holders can convert ordinary environments into amazing havens of flair and tranquillity, whether utilised as mesmerising centrepieces, compelling wall accents, or charming outdoor illuminations. Indune has become one of the most reliable brands offering top-quality candle holders. So, if you want to buy candle stands online, browse their curated product collection.