Having pooja mandir or temples in our homes has been integral to our tradition. It is an abode for our lords, inculcating positivity and a serene ambience. Thus, amidst modern life's clamour, the value of wooden temples and mandirs becomes more evident.
So, with Indune, you can now easily buy designer mandir online and change your living area into a quiet retreat, keeping all negative forces away from your home. They have a stunning selection of wooden temples and mandirs that seamlessly mix traditional Indian aesthetics with modern design sensibility. So, today, in this article, we'll showcase their top 3 products.
Why Buy Wooden Temples and Mandirs for Home?
These exquisite constructions have several meanings in our lives that go beyond their function as furniture. So, let us explore deeper into their importance.
1.    Serene Sanctuary
Whether you buy wooden mandir online or offline, it creates a calm retreat in the house. These elements provide a specialised environment to escape the outside commotion, find inner peace, and engage in prayer and meditation. This inner sanctuary is a calm location where people may reconnect with their spiritual essence. Thus, handcrafted wooden temples give the ideal backdrop for your spiritual practices.
2.    Cultural Heritage and Tradition
Pooja mandir for home are more than just decorative objects; they are bearers of our cultural history and traditions. These wooden constructions, with their beautiful carvings, patterns, and workmanship, showcase the artistry and commitment of previous generations. Each temple is a tribute to the rich fabric of Indian culture, steeped in history, mythology, and spirituality.
3.    Provision for Spiritual Practise
People buy pooja mandir, as they are intended to be useful. They give a specific location for daily rituals and spiritual rites to be performed. Lighting incense, praying, and conducting religious traditions become more meaningful and focused when done within the hallowed walls of a wooden mandir. This designated location promotes daily spiritual practice while instilling discipline and commitment.
4.    Aesthetic Appeal
Apart from its spiritual significance, these pooja mandapams provide elegance and beauty to any living space. Their exquisite designs and craftsmanship elevate the overall appearance, transforming a place into a tranquil and beautiful retreat. Wood's warm, earthy tones provide a calming ambience, adding to the area's visual appeal. So, you can buy wooden pooja mandir online to improve your environment's visual and spiritual aspects.
5.    Personalisation and Customisation
These items are adaptable, allowing for adaptation to individual tastes and home styles. From deciding the wood type and finish to complex carvings or minimalist designs, you can buy designer mandir online as per your preferences. They can be customised to represent your personality and taste.
6.    Generational Bond
Passing down a wooden temple or mandir from one generation to the next develops a sense of continuity. It serves as a bridge to knowledge and spirituality and represents the traditions and values that families cherish.
Buy Wooden Mandir Online from Indune
You can find all types of handcrafted pooja mandir, from unfinished to polished, at Indune. So, here is the list of the top 3 home temple online available at Indune.
1.    Wooden Mandir – Polished, Brass Art
This exquisite Wooden Mandir – Polished, Brass Art is a work of beauty. Its elaborate design and flawless workmanship make it an eye-catching complement to any room. The use of hardwood and a brass finish makes this piece one of the most unique pooja mandir for home. Being spacious enough to accommodate your idols, it emits spiritual tranquillity. It not only functions as a place of prayer but also provides an attractive touch to your living area with its intricate artwork.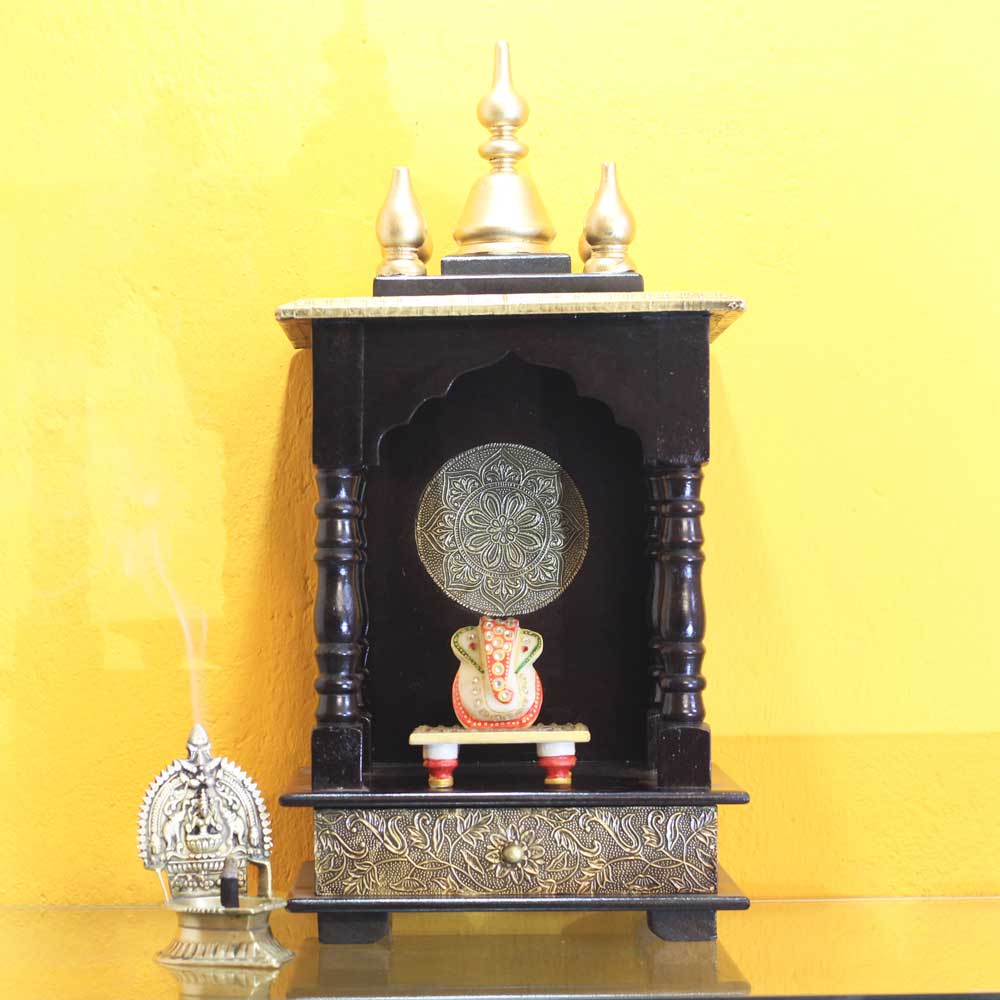 2.    Buy Pooja Mandir – Wooden Carved Mandir (Unfinished)
Are you looking for a pure wooden mandir online? If yes, this Wooden Carved Mandir (Unfinished) from Indune is your perfect choice. Its raw wood construction and semi-finished look are evidence of Indian craftsmanship. Indune offers two customisation choices to get this product in a finished form: wooden polish and silver cladding. You can opt for any and receive the final product in your own style. All you need to do is wipe it clean with a dry cotton cloth to preserve its timeless beauty.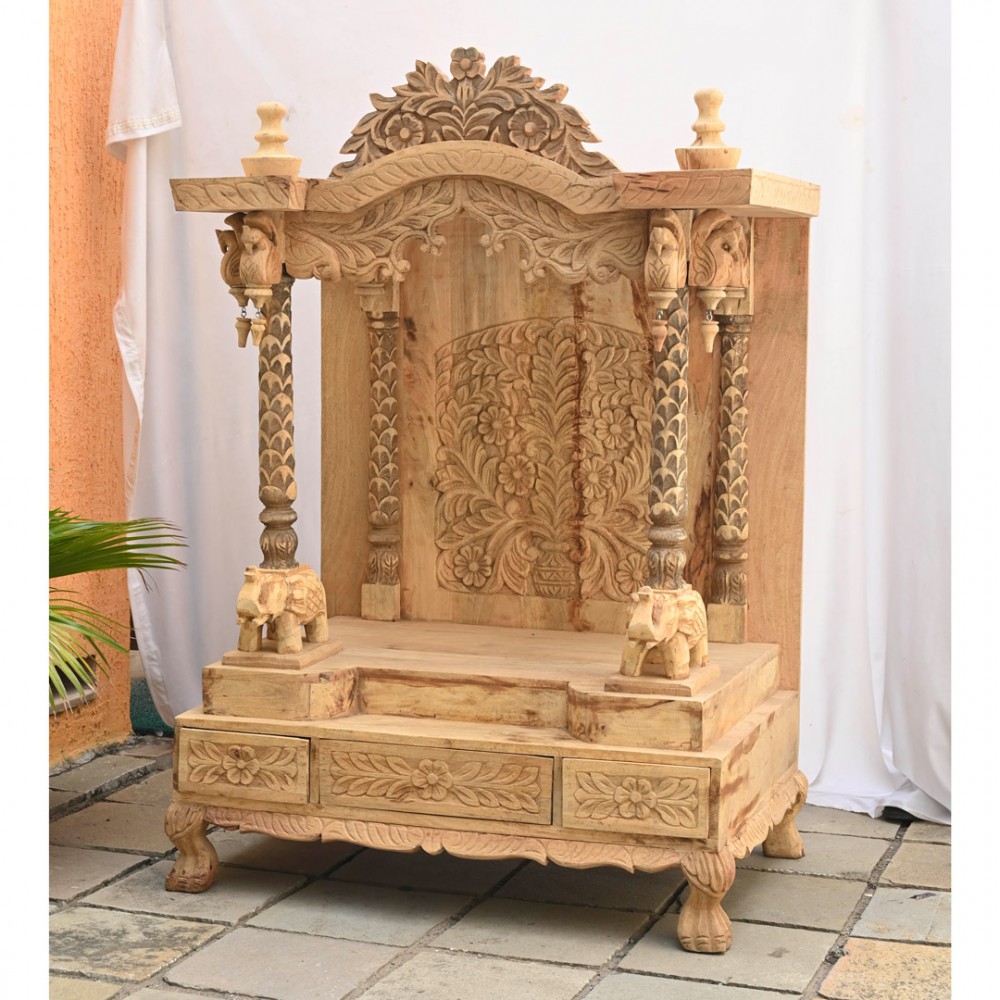 3.    Wooden Mandir – Hand Painted
Elevate your spiritual environment at home with this magnificent multicoloured Wooden Mandir – Hand Painted. This exquisite temple, meticulously crafted with hardwood and embellished with hand paintings, serves as a spiritual and attractive focal point for your prayers and ceremonies. Being the lightest of all, you can also use it as a wall-mounted temple. Its long-lasting structure assures endurance, while the intelligent design provides adequate space for your deities and pooja essentials.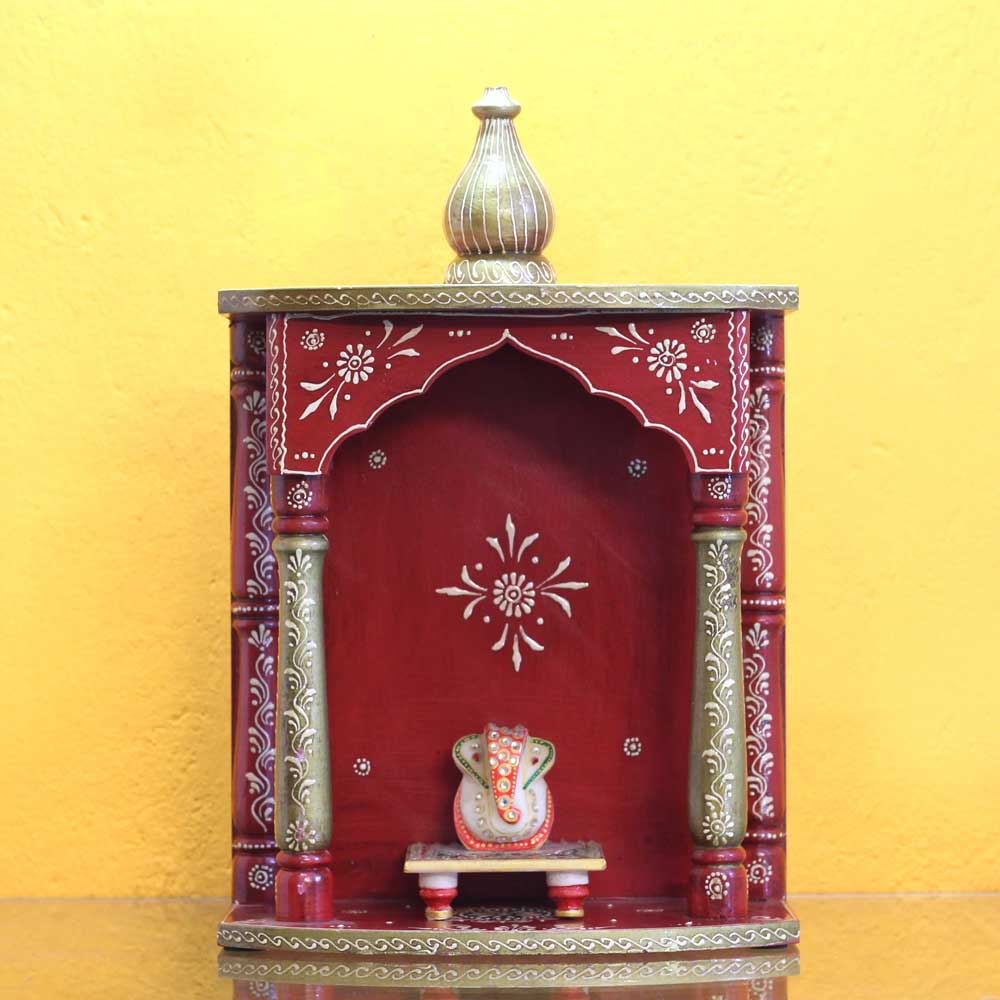 Conclusion
Wooden temples and mandirs have a special and profound significance in our lives. They are havens of peace, repositories of cultural legacy, facilitators of spiritual practice, and embodiments of beauty and tradition. So, if you want to buy wooden temples of good quality, visit Indune's online store today. Whether you want to improve the spiritual ambience of your home temple or add a distinctive touch to your commercial property, their handcrafted wooden pooja mandirs are carefully produced to match your demands.