In the world of interior design, the marriage of beauty and usefulness is crucial. One example of this synergy can be seen in traditional dressers & chests of drawers. These timeless pieces of furniture have outlasted decades and design fads, staying vital in home and business settings.
So, if you're looking to buy set of drawers online at best prices, Indune shall be your ideal destination. Our range of drawer and dresser chests is expertly crafted, merging classic elegance with modern utility, making them a must-have addition to any living area. So, today, we'll bring you some of the best-selling products from Indune. However, before that, let's understand the roleplay of these furniture pieces in accentuating your home's beauty.
Why Buy Wooden Chest of Drawers Online?
Solid wood drawers and dresser chests are a combination of form and functionality. They not only add an aesthetic appeal to your home décor but also serve as a storage element. So, below, we have highlighted the significance of these furniture pieces.
1.    Craftsmanship Preservation
A strong appreciation for artistry is at the heart of the importance of traditional dressers & chests of drawers. They feature complex craftsmanship, hand-carved decorations, and excellent joinery techniques, demonstrating artists' passion and expertise. In an increasingly mass-produced world, these furniture pieces represent the preservation of time-honoured processes that imbue each element with a distinct personality and charm.
2.    Aesthetic Versatility
The beauty of solid wood chests of drawers and dresser chests is their ability to integrate into a wide range of home design ideas. Whether in a rural hamlet, a minimalist modern apartment, or a rich classical setting, these furniture pieces blend seamlessly. Because of their graceful forms, rich wooden tones, and generally modest hardware, they are adaptable canvases for personal expression. They serve as both useful storage units and creative focal pieces for a space's visual story.
3.    Durability and Longevity
Solid wood drawers and dresser chests represent a commitment to durability and endurance. They display exceptional durability and resilience to wear, in contrast to their equivalents made of manufactured wood. This importance goes beyond their immediate function, providing a long-term option that eliminates the need for regular replacements. Their lasting qualities make them a valuable household heirloom frequently passed down through the years, leaving a legacy of feeling and monetary worth.
4.    An Ode to Time and Culture
The significance of solid wooden chests of drawers and dresser chests extends beyond their physical appearance; they serve as harmonic bridges between time and culture. These sculptures frequently include design elements and themes rooted in certain times or cultural traditions. From ornate carvings inspired by old architecture to brass hardware reminiscent of bygone ages, these furniture pieces honour tradition in a physical and useful way. They enable us to connect with history by bringing a bit of the past into our modern life.
Indune's Top 3 Dressers and Chest of Drawers Online
Indune's product line of solid wood drawers and dresser chests honours ancient aesthetics and artistry while embracing new ideas. So, explore the 3 best-selling products from the house of Indune below.
1.    Multicolour Distress Wooden Chest of Three Drawers – Bed Side
Do you want to get a colourful chest of drawers online and keep it as a bedside accessory? If yes, the Multicolour Distress Wooden Chest with Three Drawers – Bed Side is your ideal pick. This faded, multicoloured, wooden chest with beautiful Indian hand-cut embossed brass handles not only facilitates storage but also adds an aura of ethnicity and one-of-a-kindness. Its versatility as a bedside table, chest of drawers, or console makes it a flexible item that can be used in various settings.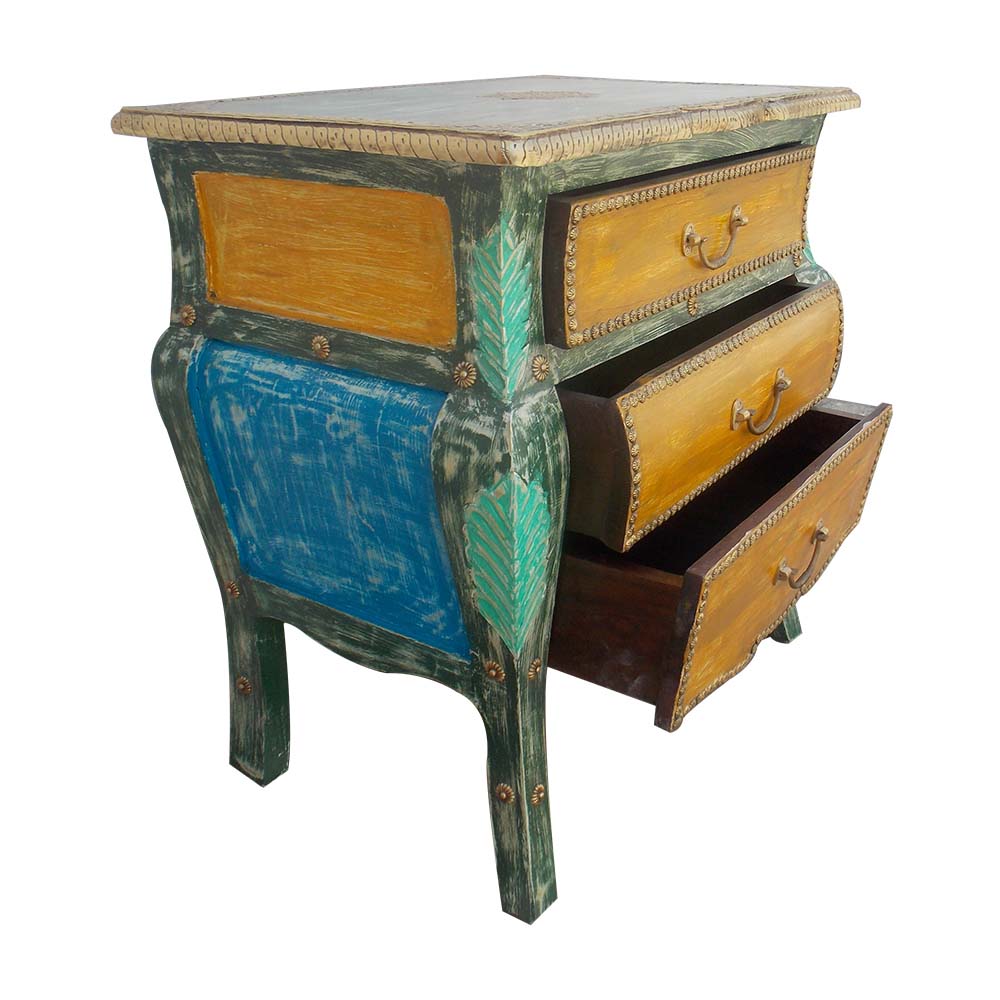 2.    Raw Wood Mini Chest of 8 Drawers
The use of real wood, which provides a touch of nature within, is one of the distinguishing elements of Indune's products. With a natural wood finish and sleek black knobs, their Raw Wood Mini Chest of 8 Drawers embodies this character. This small chest brings a rustic yet elegant touch to any space. It is primarily designed to hold tiny jewellery and personal items and flawlessly blends functionality with raw elegance. So, if you want to buy wooden chest of drawers online for storing multiple trinkets, this one is a great choice.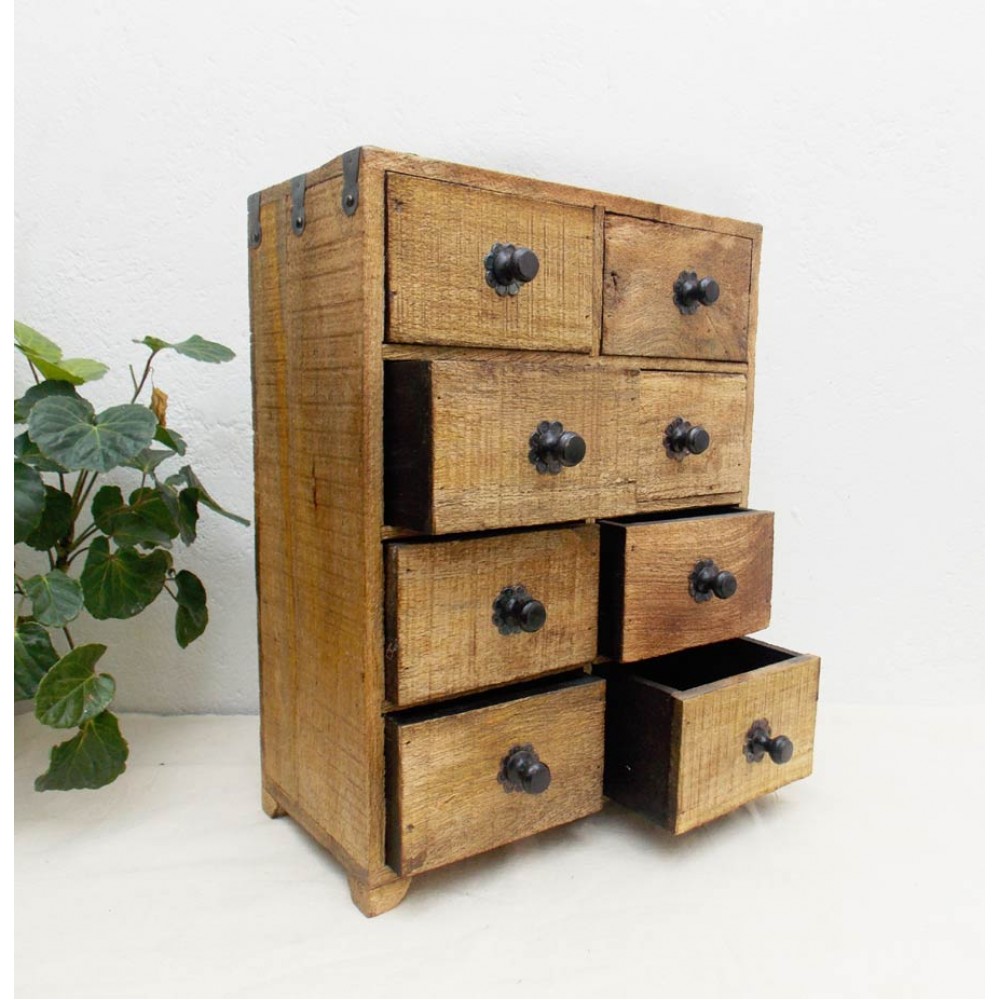 3.    Rajwada Style Hand Carved Wooden Chest of Three Drawers with Decorative Brass Fittings
Indune's Rajwada Style Carved Wooden Chest with Three Drawers with Decorative Brass Fittings is a work of art for individuals who appreciate regal elegance. The combination of Rajwada design with elaborate Indian hand-cut brass artwork and genuine handles emanates richness. With its deep brown polish finish and ornamental decorations, this product can be a valuable chest of drawers or a beautiful bedside table.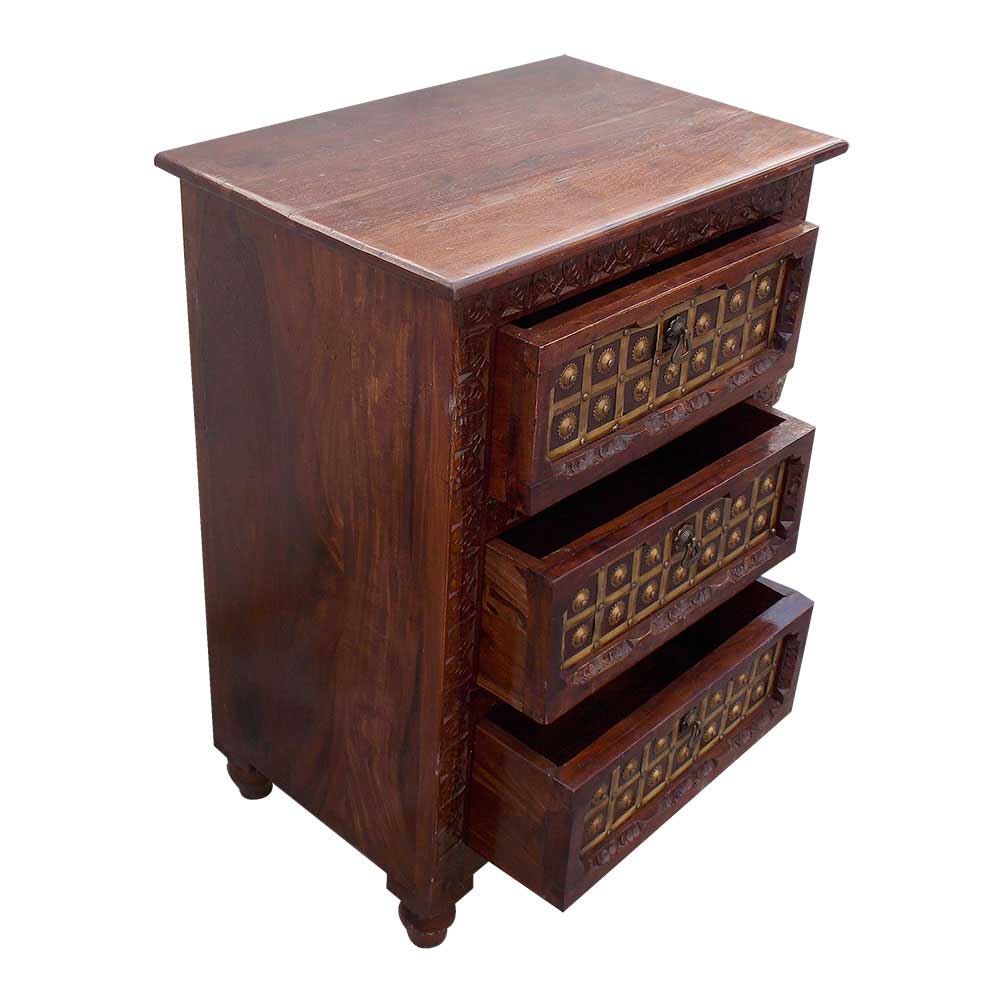 Conclusion
Finding a chest of drawers and a dresser chest that flawlessly mixes elegance and practicality is a treasured endeavour in the ever-evolving realm of home design. Indune not only recognises this need but also satisfies it with their expertly created range of products, where you can buy set of drawers online at best price.