Serving trays retain a distinct position in kitchen and home aesthetics. They are more than just useful; they also show your personal style and taste. Whether throwing a spectacular dinner party or simply having a cosy meal at home, the perfect serving tray may improve your dining experience. If you want to buy serving trays online at the lowest possible price, go no further than Indune. In this post, we'll look at the world of serving trays and expose you to some of the best options from Indune's extensive assortment.
Why are Serving Trays Important?
Serving trays hold a special place in our homes. They are adaptable and perform a variety of roles in enriching our eating experiences. However, many other reasons make these trays important. Below, we've discussed the significance of serving trays in detail.
1.    Aesthetic Enhancement
Serving trays are a multipurpose item that goes well with any décor style since they are available in various materials, styles, and hues. Whether you prefer the rustic appeal of wooden trays or the elegance of porcelain, there is one for you.
Aside from materials, these trays come in a variety of designs. Trays with sleek, clean lines and minimalist design are available, making them ideal for a modern and subdued environment. On the other hand, ornate trays with elaborate designs and embellishments can be used as a centrepiece in classic or vintage-themed interiors. The variety of styles available assures you to choose a tray that complements your décor choices, whether traditional, eclectic, or industrial.
2.    Organisation
These trays are excellent organisers since they are made of wood. They can contain many foods neatly in one spot, making it easy to serve and enjoy your meals without making a mess. Wooden trays frequently have solid handles, making transporting food from the kitchen to the dining room easy. This characteristic of mobility improves the convenience of your serving operation. You can easily bring a complete dinner to the table, reducing the need for several journeys back and forth.
3.    Versatility
You must buy trays online at best price because they are adaptable. They can be used to serve meals, showcase ornamental things, hold your favourite books, or even serve as the foundation for a stunning flower centrepiece.
3 Best-Selling Serving Trays Online at Indune
Indune is your one-stop shop for high-quality serving trays that will surprise your visitors and elevate your everyday eating experience. So, here, we have brought forth the 3 unique serving tray options they offer. Let's take a glance.
1.    Ceramic-Blocked Wooden Serving Tray (with 4 Ceramic Tiles), Polished (8×8)
This multi-hued Ceramic-Blocked Wooden Serving Tray (with 4 Ceramic Tiles), Polished (8×8) from Indune, combines the earthiness of wood with the magical allure of ceramic tiles. It's a fantastic combination of modern ceramic tiles precisely attached to a varnished wood plate. Available in 2 colour options, this décor tray would make a lovely addition to your serveware collection. It is not only a valuable serving item but also a work of art that adds a touch of refinement to your dining table.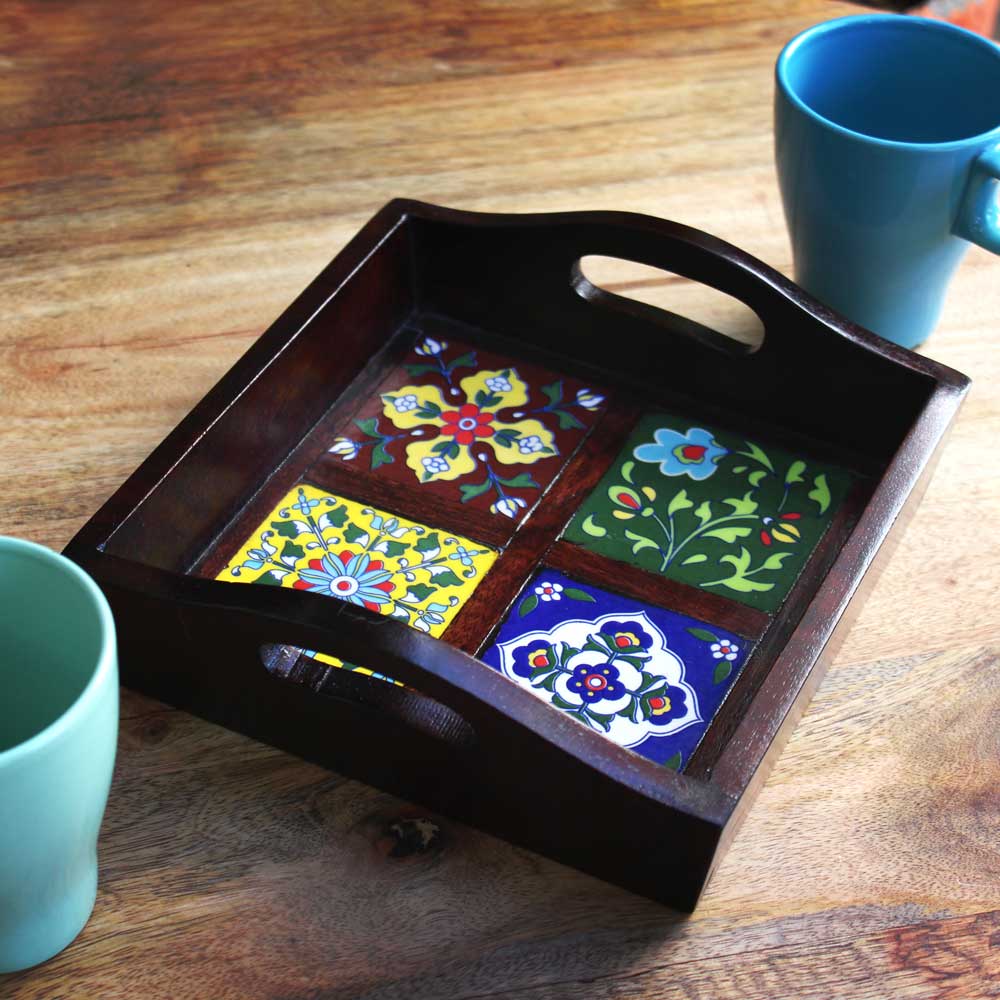 2.    Hand Painted Wooden Serving Tray
Do you want to buy wooden trays online? Get this Hand Painted Wooden Serving Tray from Indune. With the natural warmth of wood and the charming attractiveness of intricate embossed patterns, it serves many purposes. Whether serving beverages or displaying decorative objects, you can use this product for all instances. Besides, this serving tray's robust construction and non-slip base set it apart, allowing you to handle it efficiently and elegantly.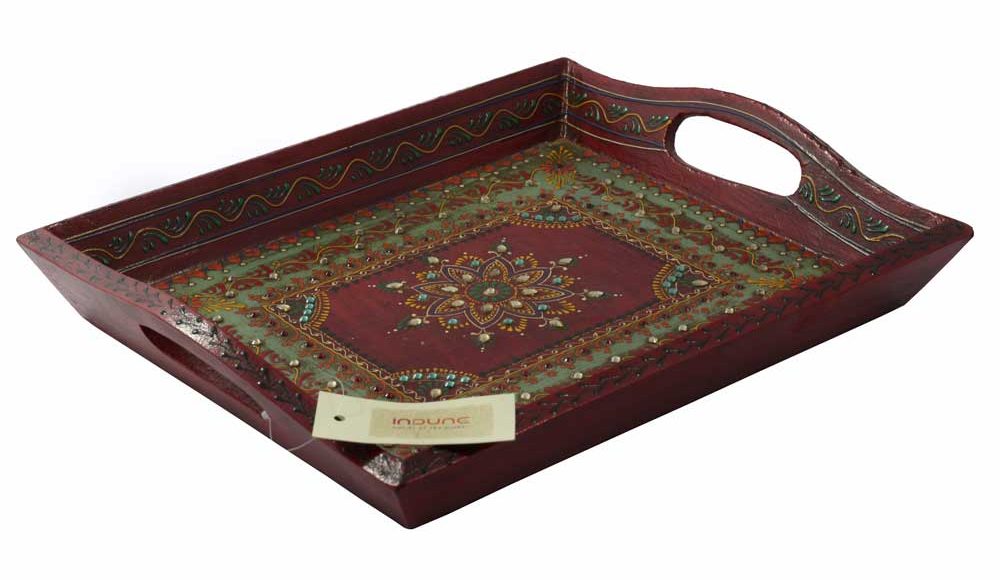 3.    Iron Round Tray Platter in Copper Finish Dia 10 Inch
If you intend to buy trays online at best price, Indune is your ideal destination. Notably, their Iron Round Tray Platter in Copper Finish Dia 10 Inch can be a great decorative centrepiece at affordable rates. Made of iron sheets and embellished with stunning old copper plating, this tray has an eye-catching, lightweight design that makes it a great choice for boosting your home décor. Whether adorning it with beautiful stones, vivid flowers, or lighted diyas and candles, you can use it for multiple decorative purposes.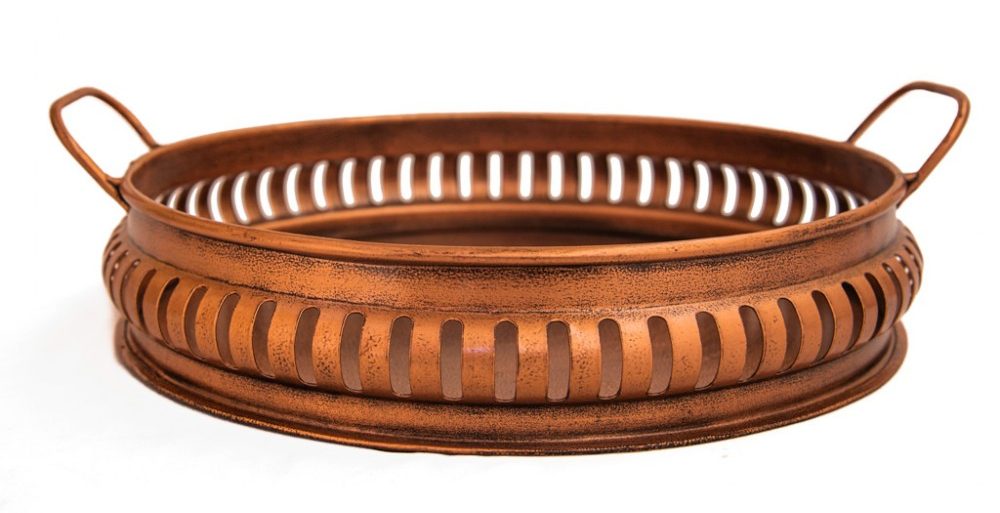 Conclusion
Alongside offering food or beverages, serving trays can also level up your aesthetics and add charm to your indoor space. So, visit Indune today to boost your eating experiences and improve the ambience of your house. Explore their extensive collection and buy serving trays online at the lowest rates.