Do you want to update your home design and add a touch of luxury to your living spaces? Look no further! Indune offers a beautiful selection of art mirror frames at best price that will instantly improve the ambience of your house. The hand-carved decorative wall mirrors are a great combination of modern creativity and traditional workmanship. Let's explore the exclusive collection of art mirror frames to find the ideal item to suit your taste.
The Significance of Art Mirror Frames for Home Décor
Art mirror frames are pretty important in home interior design. They are more than simply useful mirrors; they are mesmerizing works of art that can change the entire atmosphere of a room. Here are some of the main reasons why decorative art mirror frames are so valuable:
1.    Elegance and Beauty
Art mirror frames bring elegance and beauty to any space. They are available in various forms, sizes, and patterns, allowing homeowners to select frames that complement their interior décor theme. Decorative wall mirror improve the aesthetic appeal of any room, whether it has a frame with a historical aesthetic or a modern, sleek design.
2.    Illusion of Space
Mirrors are well renowned for their capacity to generate the illusion of space. A strategically placed mirror in a room may make it look bigger and more open. It is handy in tiny rooms or apartments where an open and breezy sense is necessary.
3.    Light and Reflection
Art mirror frames are fantastic light reflectors. They may bounce natural or artificial light throughout the room, illuminating even the most inaccessible nooks. It not only makes the environment more attractive, but it also reduces the need for extra lighting during the day.
Art Mirror Frames from Indune: A Mesmerizing Addition to Your Space
Accentuate your home décor with style and elegance! As one of the best decorative mirror shops in India, Indune's wide range of designs and colours strives to cater to every individual's taste and preference. So, here are their 4 best-selling art mirror frames.
1.    Reclaimed Wood Round Mirror Frame
Decorate your walls with this lovely Reclaimed Wood Round Mirror Frame from Indune. Their classic wall piece radiates retro appeal with its weathered blue and white wood patches, bringing a touch of vintage intrigue to your house. It is a skillfully carved mirror frame from recycled wood, making it an eco-friendly solution for those who care about the environment. It is ideal for living rooms and bathrooms since it serves both beautiful and functional purposes. So, embrace rustic décor with this one-of-a-kind piece of art weighing around 2000 grams.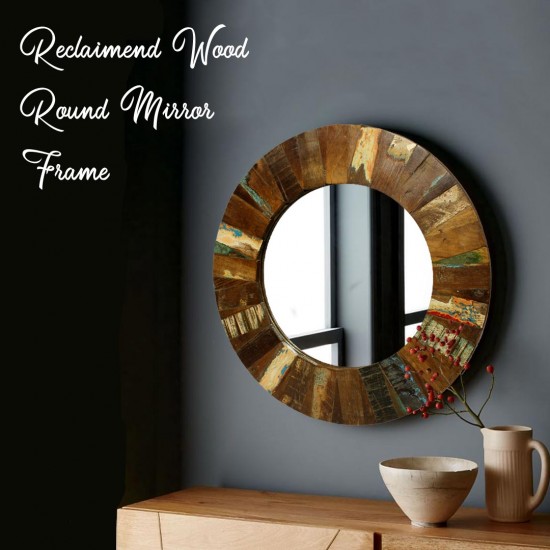 2.    Handcrafted 5 Window Antiqued Blue Frame
Indune's Handcrafted 5 Window Antiqued Blue Frame is a lovely mix of rustic and modern aesthetics. Its excellent finishing and elaborate yet subtle motifs transform it into a work of art that captivates the viewer. Adding a fresh, contemporary aesthetic to the frame is the blue finish complemented by handmade embellishments that provide a rustic charm to any décor. Crafted from wood and weighing 500 grams, this mirror frame is an exceptional wall décor piece and a delightful gift for your beloved.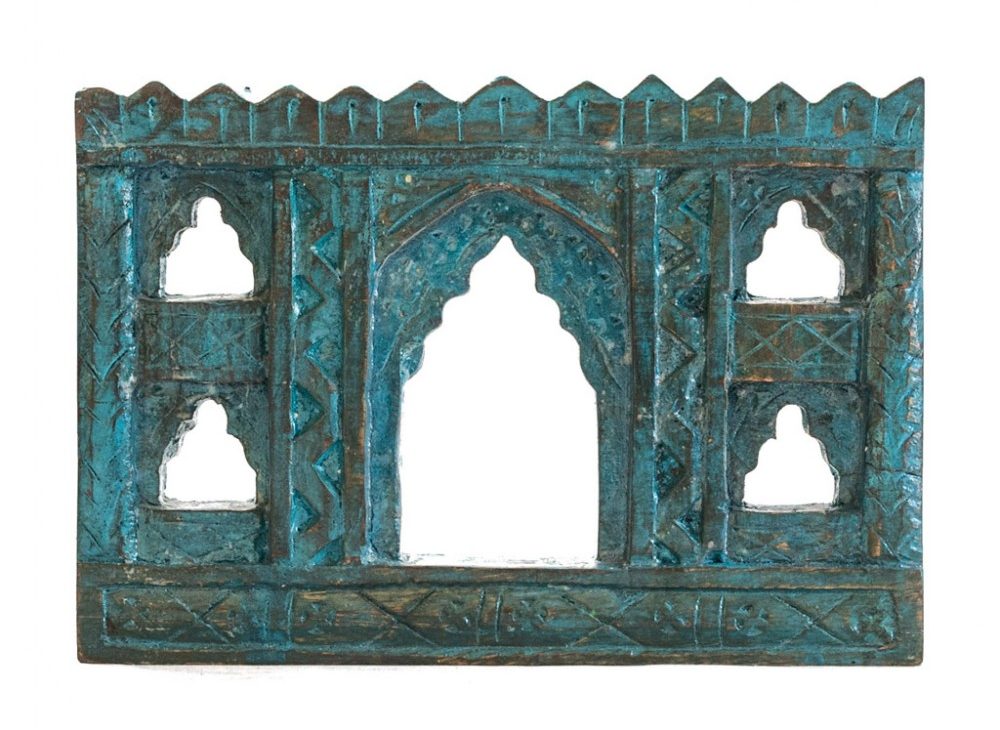 3.    Wooden Jaisalmer Jali Mirror Frame – Hand Painted, Green
Experience the artistic delicacy of Indune's Wooden Jaisalmer Jali Mirror Frame with its magnificent hand-painted green finish. The exquisite Jali pattern gives any environment a touch of class and beauty, making it one of the best art mirror India. This mirror frame is made of wood and weighs 1600 grams. It stands 18 inches tall. Its 44 x 3-centimetre size makes it a flexible artwork that may be used in various settings. However, wipe this gorgeous frame gently with a dry cotton towel to keep its radiance.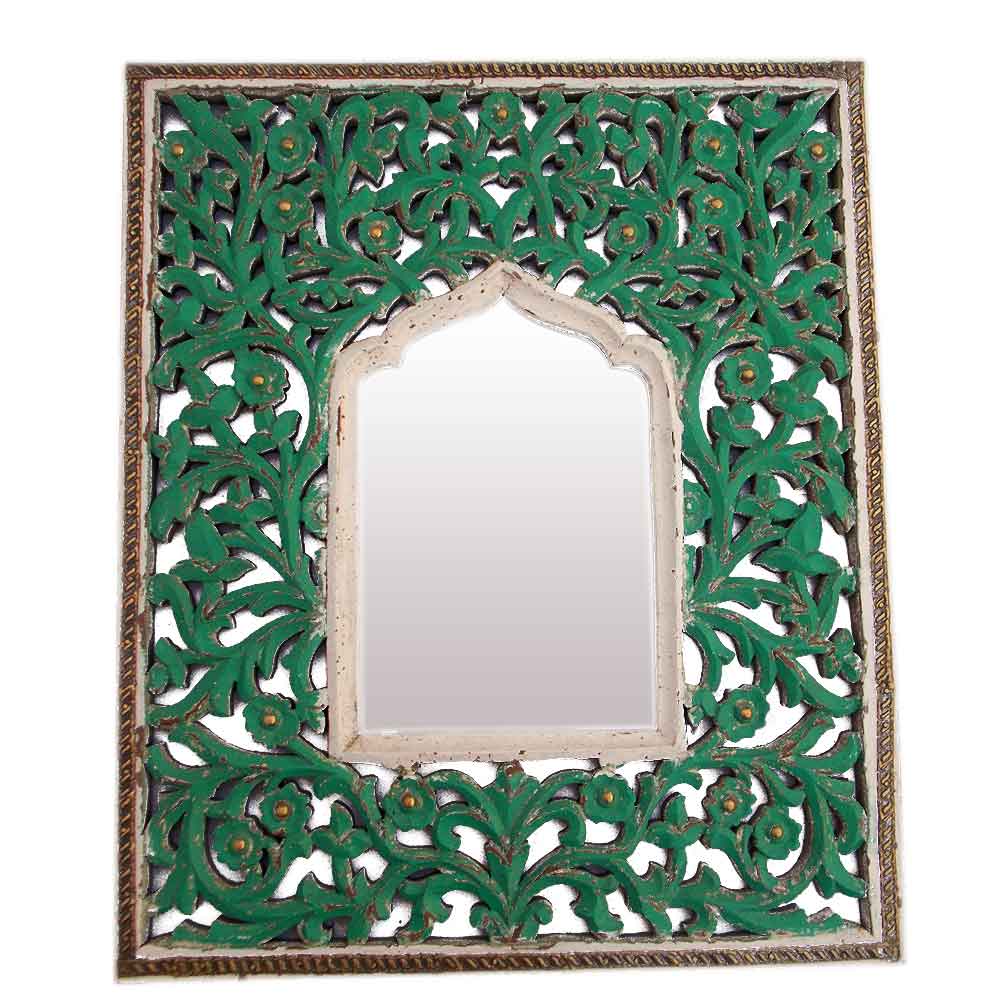 4.    Wooden Mirror Frame – Distressed Green, Metal Art
Elevate your décor with the Wooden Mirror Frame in Distressed Green, which has beautiful metal art. This frame, spanning 24 x 1 inches and weighing 7800 grams, is a conversation starter because of its superb craftsmanship. The faded green finish lends a retro touch, making it ideal for eccentric and bohemian décor. Clean it only with a dry cotton towel to eliminate dust so as to ensure its long-lasting attractiveness.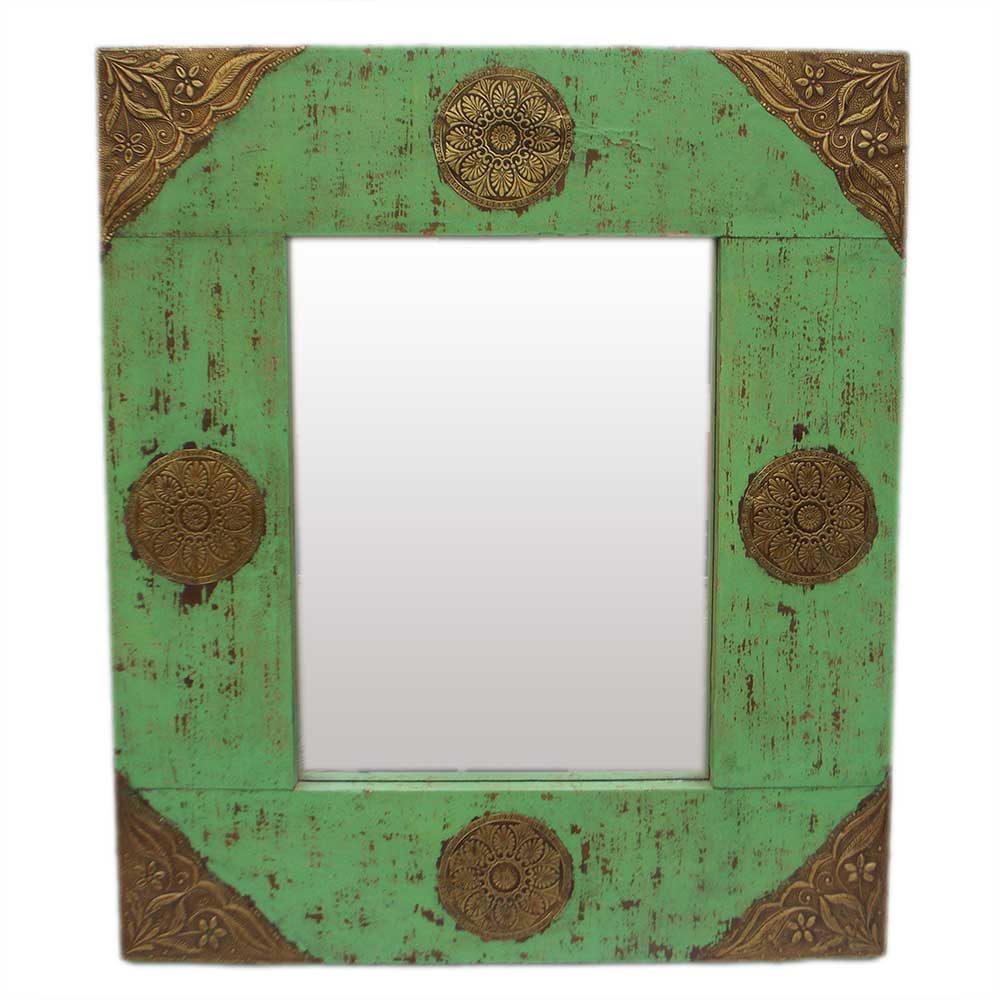 Conclusion
You can add beauty, charm, and refinement to your living spaces with artistic mirror frames. Indune's unique art mirror collection, handcrafted with love and care, has a variety of patterns and styles to fit your individual preferences. So, visit the art mirror shop today and immerse yourself in the enchantment of mirror frames that reinvent the art of wall design. Explore their fantastic collection to get the most incredible art mirror India and improve the attractiveness of your space at the most affordable price!